What are Implants?
Implant technology allows us to replace a tooth that has fallen out completely. For children and teens, permanent teeth may fall out because of trauma or severe decay. In this case, an implant can be placed to fully replace the missing tooth. Implants have a high success rate and heal quickly in pediatric patients.
Why would your child need an Implant?
Your child may need an implant if they are missing a permanent tooth. Your child's baby teeth will naturally fall out, but the next set of teeth, known as the permanent teeth, are the only second set they'll get. If a tooth falls out because it was knocked out of place and unable to be saved or because it had decayed, your child may find that they are unhappy with their smile. Implants can restore their smile fully and without the worry of having a fixed dental bridge placed.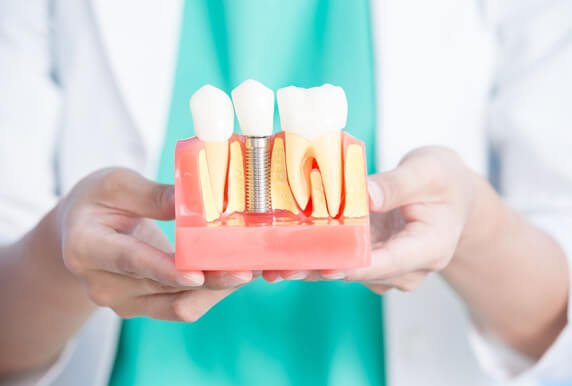 What makes your child a good candidate for Implants?
Implants are typically safe to place in a child's mouth. Children normally have good bone mass and structure to ensure that the implant is securely placed in the mouth. Implants rely on a process that is called osseointegration. This process involves the time when your child's jaw bone grows around and bonds with the implant itself. A crown is then placed on top of the implant, so it's important that your child know there are several steps to having an implant placed.
What can you expect when your child is having an Implant placed?
Your child will receive sedation so that they are asleep for the procedure. Other anesthetic options are available to meet their needs. A tiny incision is made through the gums and the implant drilled into place deep within the bone. The incision is stitched using sutures and your child can go home within a matter of about an hour. The implant will heal over the course of three to seven months and will need to come back in to have the permanent dental crown placed on top.
If your child is in need of a dental implant or you'd like to inquire more about this procedure, call us today and we will help to further assist you.